Are you ready to immerse yourself in a world of pure joy and wonder? Look no further than the upcoming Yayoi Kusama exhibit at the WNDR Museum! Kusama, the eminent Japanese artist, is known for her vibrant and hypnotizing installations, from the mesmerizing infinity rooms to the playful polka dot pumpkins. Her art is an invitation to escape into a world of fantasy, color, and infinite possibility.
At the WNDR Museum, you'll have the opportunity to step into Kusama's dazzling universe and experience the awe-inspiring beauty of her art firsthand. So grab your friends and family, and join us for a truly unforgettable experience!
Who Is Yayoi Kusama?
Yayoi Kusama is a world-renowned Japanese artist known for her avant-garde and immersive art installations. Born in 1929 in Matsumoto, Japan, Kusama began her artistic career in the 1950s, experimenting with different mediums such as painting, sculpture, and performance art. Her work often features bright colors, repetitive patterns, and a sense of infinity.
One of Kusama's most iconic works is the "infinity room," which immerses the viewer in a seemingly endless expanse of mirrors and lights. Another recognizable motif in her work is the polka dot pattern, which she has used in a variety of mediums, including painting, sculpture, and even fashion.
Kusama's art is deeply influenced by her struggles with mental illness, particularly with hallucinations and obsessive-compulsive disorder. Her art serves as a form of therapy and a way to cope with her condition.
Over the years, Kusama has gained international recognition for her art, with exhibitions in prestigious museums and galleries around the world. Her work has been described as playful, whimsical, and otherworldly, inviting viewers to escape into a world of fantasy and imagination.
Today, Kusama is considered one of the most influential and important artists of the 20th and 21st centuries, inspiring countless artists and art lovers alike with her unique vision and captivating creations.
"Let's Survive Forever" at WNDR Boston
The "Let's Survive Forever" installation artwork features a mirrored room with a field of polka-dotted, inflatable, stainless-steel spheres suspended from the ceiling and scattered across the floor. The room is lit by changing colored LED lights, which create a kaleidoscopic effect as the spheres reflect and refract the light.
The title of the artwork, "Let's Survive Forever," reflects Kusama's longstanding interest in themes of eternity and infinity. The repetition of the spheres and the use of mirrors create a sense of infinite space and suggest the idea of endlessness. The polka dots, which are a recurring motif in Kusama's work, are meant to represent the interconnectedness of all things.
The installation is interactive, and viewers are invited to enter the mirrored room and walk among the spheres. This creates a sense of immersion and encourages viewers to contemplate their own place in the universe.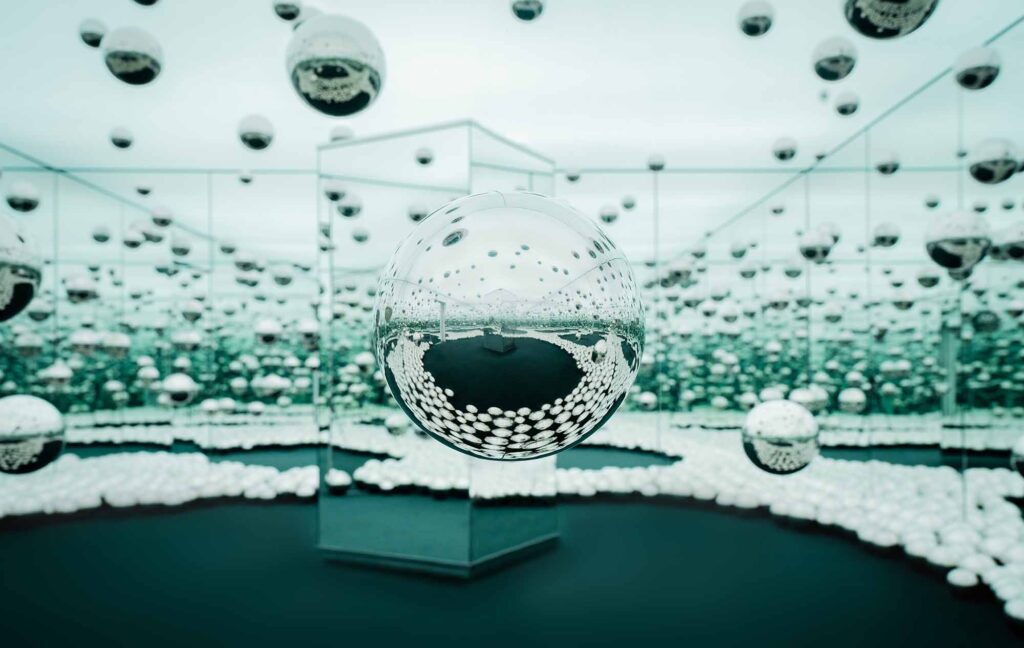 "Starry Pumpkin" at WNDR Seattle
A deeply introspective shape that grounds her legendary career, the pumpkin has become a self-portrait for the artist. Born and raised in Japan, Yayoi Kusama emerged as an artist during the Vietnam era and continues to make work that reaches diverse audiences worldwide. In the hallucinations that Kusama began experiencing since she was ten years old, pumpkins emerged as a source of comfort.
After finding success in New York City with infinity dots, she created iterations of the gourd across multiple scales and media, praising the fruit for its "generous unpretentiousness," "its solid spiritual balance," and as "such tender things to touch, so To Kusama, the pumpkin represents comfort, humility and stability. Starry Pumpkin is a beacon of contemporary art and the epitome of all of Kusama's inimitable achievements.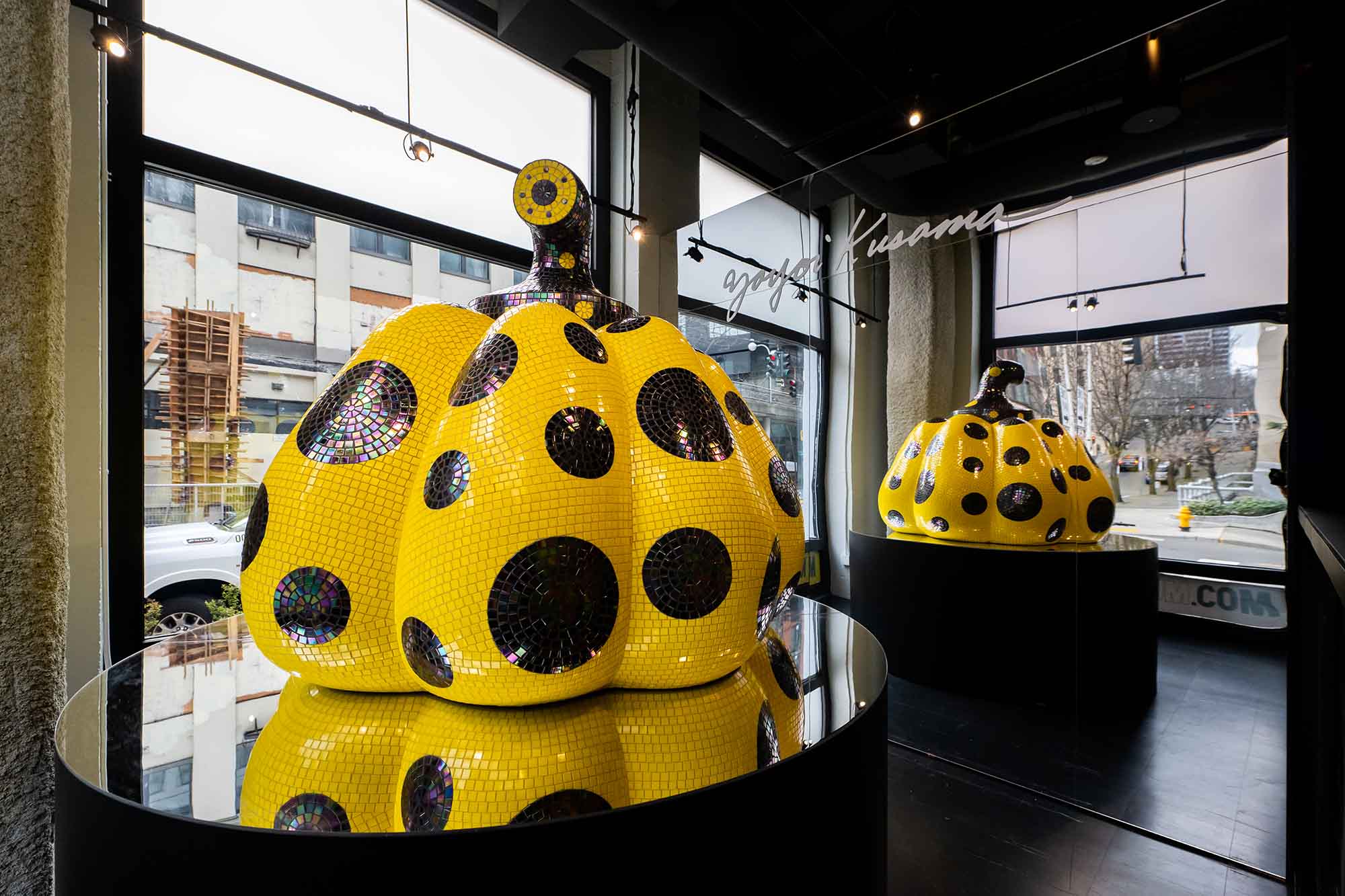 "Dots Obsession" at WNDR Chicago
Featuring a series of floating yellow and black polka dots alongside walk-in and peep-in installations, Dots Obsession transports visitors into Kusama's obsession with polka dots, repetition, celestial bodies and the experience of the infinite.
"Since my childhood, I have always made works with polka dots. Earth, moon, sun and human beings all represent dots; a single particle among billions," Yayoi Kusama has said.
Dots Obsession was created by Yayoi Kusama in 2008 and has been exhibited around the world. After making its debut in London, the work has appeared in Lithuania, Singapore and Australia, and was most recently on view at Museum MACAN in Jakarta, Indonesia in 2018. This will be the first time that yellow Dots Obsession will be installed in the United States.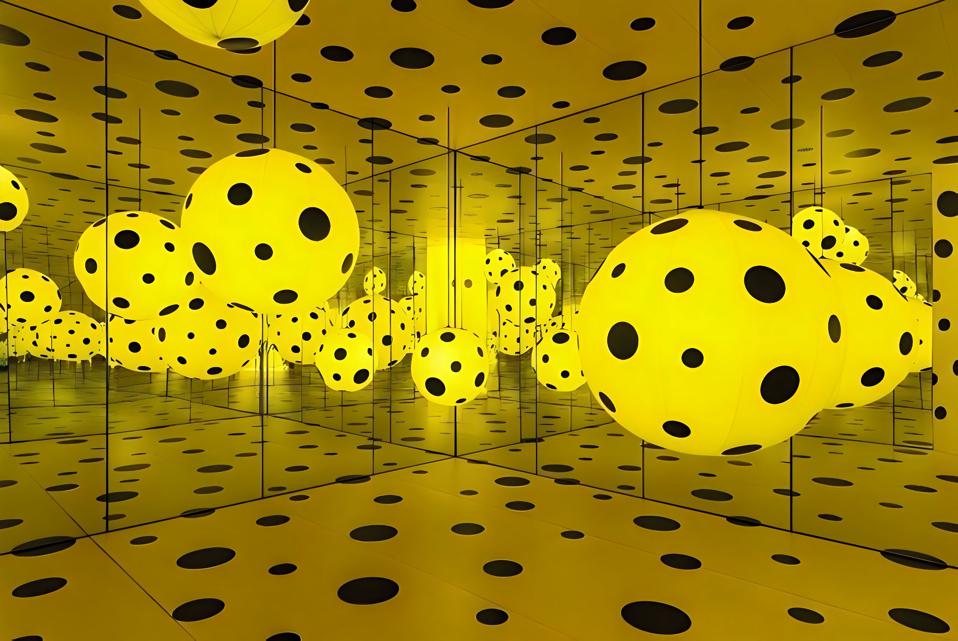 Buy Tickets to Experience Yayoi Kusama Art at WNDR
Don't miss the chance to experience the magic of Yayoi Kusama's art at the WNDR Museum! Book your tickets now to ensure you don't miss out on these inspiring and unforgettable exhibits.