Chelsey Carter-Sanders (Saint Louis MO), is the founder and CEO of the Alex Carter brand. After graduating from The Art Institute – Chicago, she launched the Alex Carter brand in 2015 where she caters to customers who are risk-taking but appreciate edgy classics. Carter's designs can be seen on SZA, Erykah Badu and participated as a contestant on Bravo's Season 18 of Project Runway. She has been featured in Vogue Italia, Elle, Chicago SunTimes, Modern Luxury, Covergirl of SPLASH and the Chicago Tribune. In addition to these press opportunities, Chelsey has also partnered with brands such as Lexus RX, Lululemon, Converse and HBO Max; to name a few. Chelsey is set on building a legacy of Classic American designs that stand the test of time and hopes to encourage all aspiring designers to do the same. Today, the Alex Carter brand is known for creating everyday clothes for not so everyday people — bridging the gap between simplicity and edge.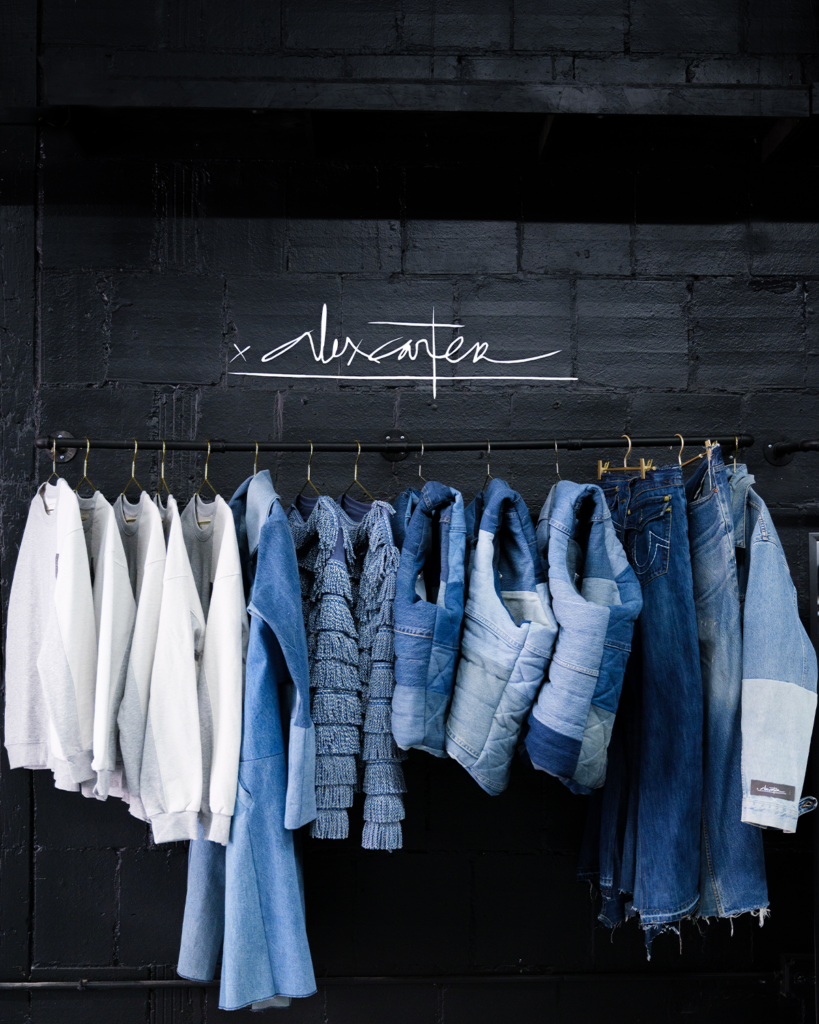 Acres Of Untold History" by Chelsey Carter-Sanders
Acres Of Untold History — an exhibit by fashion designer Chelsey Carter-Sanders where she invites us to experience an expressive tribute to the pages of history many are unaware of. Through her love for storytelling, she uses her medium of Denim to paint a textured picture of African Americans' contribution in American History. This installation will coincide with her Spring 2023 capsule collection, "Fields".
Carter's capsule is both literal and meaningful, celebrating the richness of African American culture and remembering the fields where cotton was picked. Fields represents the birthplace of fresh ideas at the intersection of innovation and homage. Made from 100's of up-cycled denim, the Alex Carter brand uses a vehicle of sustainability to propel this creative story.
Buy Tickets to Chelsey C. Sanders at WNDR Chicago
Don't miss the chance to experience the designs of Chelsey C. Sanders at the WNDR Museum Creatives of Color exhibition! Book your tickets now and ensure you don't miss out on this inspiring and unforgettable exhibit.
"Acres Of Untold History is a moment to pause and reflect on this rich contribution African Americans gave to American History. This exhibit is an invitation inside my mind, a Black American Woman who is using the medium of denim to amplify an interactive story. Meant for informative gain and expressive value"
Supporting the unique Creatives of Color exhibits offered at the WNDR Museum is an experience like no other! Not only will these incredible, groundbreaking works of art stimulate motivation and creativity, but they will also leave you feeling inspired and connected as you observe history unfold before your very eyes. Don't miss out on experiencing something truly special – purchase your ticket to the WNDR Museum today!