The following is a transcript of the Thrillist article linked below. Be sure to give them a click!
(Featured photo: InsideOut by Leigh Satchwitz + flora&faunavisions. Photo taken by Ken Schluchtmann)
---
From the numerous options in Balboa Park to the newly opened WNDR Museum, here's where to get your culture fix in America's Finest City.
As if our perfect weather, miles of gorgeous beaches, world-famous craft beer scene, and ever-evolving culinary landscape wasn't enough, San Diego County boasts nearly 100 museums, ranging from musical endeavors and artistic creations to preserving the culture of Indigenous communities and documenting our long maritime history. Whatever your interests, there's bound to be a museum to stimulate your mind and restore your soul, plus you can take advantage of half-price tickets at many venues throughout the month of February. Here are some of our favorite San Diego museums: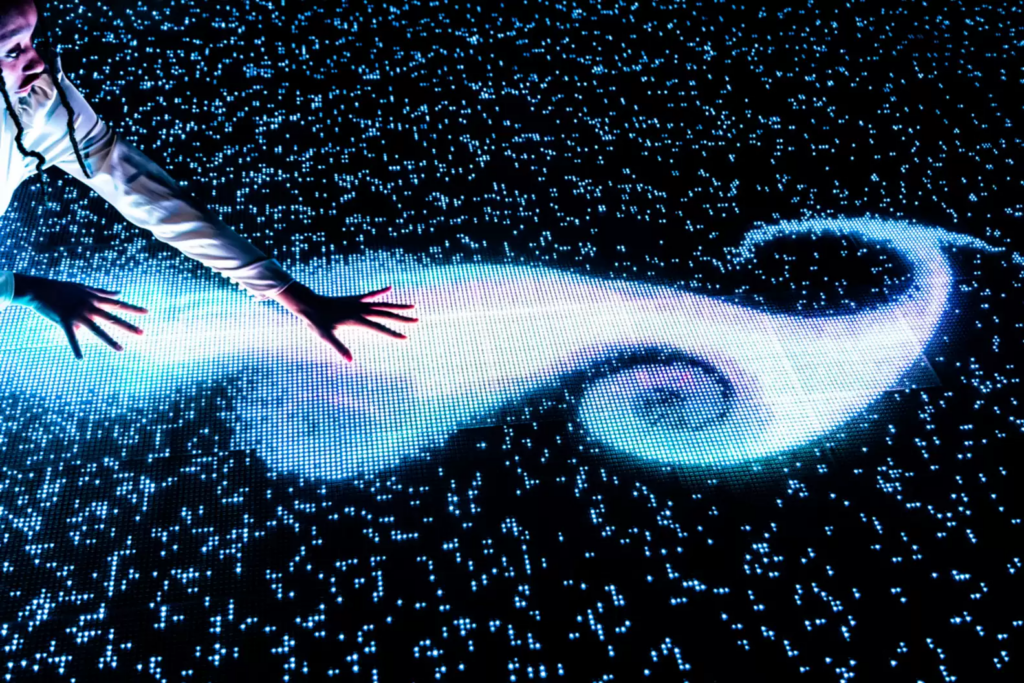 Downtown
The brand new WNDR Museum is an immersive art and technology experience that invites guests to fully engage with local and international artists, collectives, technologists, designers and makers in a completely new museum experience. Dance across the Lightfloor, which reacts to the visitors' every move and touch, step into Inside Out by Leigh Sachwitz and flora&faunavisions, a mesmerizing, translucent garden house where you'll weather a digitized storm, or encounter nearly 20 other hypnotic exhibits. WNDR is open 12pm-9pm Monday-Wednesday, 12pm-10pm Thursdays, 10am-11pm Fridays-Saturdays and 10am-8pm Sundays.
Cost: $32 for adults, $22 for children (ages 3-12), free for children two and below.





Oceanside
The Oceanside Museum of Art, which recently celebrated its 25th anniversary, is adjacent to the beautiful Oceanside Library and City Hall buildings at the corner of North Ditmar Street and Pier View Way. The galleries feature a rotation of exhibits—currently there's five different presentations, including Ethan Chan: Selections From The Closets of The People That I Love…, a collection of wearable sculptures constructed from fast food chain, gas station and high school cafeteria sauce packets, modeled after clothing chosen from the closets of friends.
Cost: $10 for adults, $5 for seniors. Military, students and children are free.
Balboa Park
You've probably driven by that million gallon painted water tower at the edge of Balboa Park and wondered just what the heck it is. Nearly 30 years ago, Makeda "Dread" Cheatom followed her vision that the world would be a better place if people took the time to learn about and respect other cultures. She decided to create a place where all are welcome and celebrated so she and the WorldBeat Center team transformed it, using local artists to create the distinctive indoor and outdoor murals. A LEED Certified and USGBC Green Building with a fully sustainable recycling and composting program, it promotes and preserves African, African-American and other Indigenous world cultures through art, music, dance, education and technology, as well as maintaining the George Washington Carver EthnoBotany Peace Garden.
Cost: Entry is donation-based, costs for special events vary.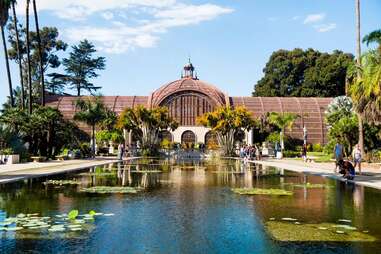 Balboa Park
While we've already taken it upon ourselves to highlight some of our favorite, must-visit museums inside Balboa Park on this list, it's also worth seeking out this cultural hub that's been crowned the "Jewel of San Diego" on its own. You can easily spend a day, if not a weekend, getting lost in its 1,200 acres of gardens, museums, attractions, and restaurants.
Of particular note are: the San Diego Natural History Museum that first opened in 1874 and is the oldest scientific institution in Southern California; civic leader George W. Marston's 1905 craftsman home that's listed on the National Register of Historic Places; the Fleet Science Center and planetarium that's home to the world's first IMAX Dome Theater; and Centro Cultural de la Raza, a nonprofit center that promotes, preserves, and educates around Chicano, Mexican, Indigenous and Latinx art and culture.
Cost: Varies, but San Diego residents can plan their trip around free days for residents. The Timken Museum of Art and the San Diego Mineral & Gem Society Museum are always free.
Carlsbad
The Museum of Making Music in Carlsbad is the only museum of its kind in the world, celebrating the achievements and significance of those who craft, sell and use musical goods and instruments. Through unique rotating exhibitions, live music performances and cutting edge educational programs, four distinct galleries take you on a musical journey through instruments, artifacts and immersive, multimedia displays, with each room highlighting a different theme: "Making the Instruments," "Providing the Instruments," "Using the Instruments," and "Beyond the Instruments." There's also "Sit & Play" areas for solo or group experimentation. MoMM is open Tuesday-Sunday from 10am–5pm. Ticket reservations are required and must be made online.
Cost: $15 for adults, $10 for students, seniors and active duty military. Children three and under are free.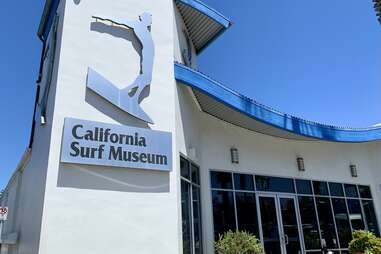 Oceanside
Even if you're not a surfer, you'll love the California Surf Museum, founded in 1986 and dedicated to surf culture worldwide. For the optimal experience, let the encyclopedic docents guide you around the galleries, but it's equally fascinating if you take a self-guided tour. A rotation of exhibits—there's currently nine different presentations—take you through the history and culture of wave riding. Start with a tribute to renowned surfboard shaper Donald Takayama, and move on to a delightfully nerdy Where's The Surf? Find Swell Direction With Wave Science installation, featuring the Coastal Data Information Program's (CDIP) near real-time network of monitoring sites for waves and beaches across the US. You can also take a deep dive into the history of boogie boarding, explore body surfing and handplanes and be amazed by the most popular exhibit, Courageous Inspiration: Bethany Hamilton, the compelling story of the then 13-year-old surfer who lost her left arm when she was attacked by a 14-foot tiger shark off the coast of Kaua'i in 2003. The museum is open daily from 10am–4pm. Tickets can be purchased at the door.
Cost: $7 for adults, $5 for seniors 62+, military, and students. Children 11 and under are free.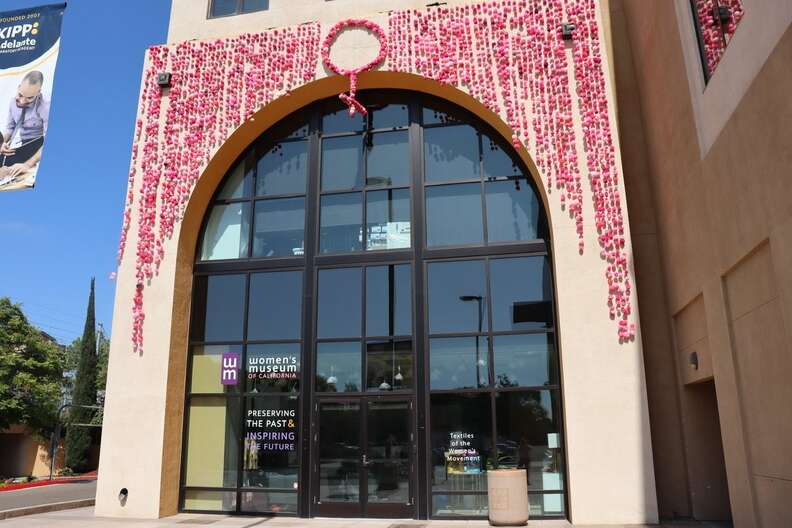 Valencia Park
The Women's Museum of California debuted its brand new Southeast San Diego Center earlier this summer. The museum's featured exhibit, Crafting Feminism: Textiles of the Women's Movement, is currently on display. From "bloomer outfits" and sashes dating back to the 1850s to hot pink knitted "pussy hats" like the ones worn at the 2017 Women's March, the program highlights how textiles have played a role in the waves of feminism, and features locals such as Michelle Montjoy, Diana Benavídez, Anna O'Cain, Siobhan Arnold, Irma Sofia Poeter, Claudia Biezunski-Rodriquez and yarn bomber Maritza Contreras, who create artwork with textiles.
The museum also holds a library of feminist books, including women-authored works that have been banned from public schools across the country, with plans to grow the collection through donations from the public, An interactive component of the exhibit includes a feminist-themed photo station where visitors can pose with posters and signs harking back to the early 1900s women's marches. The museum is open on Fridays and the first Saturday of the month from 11-4pm and by appointment on weekdays to schools, community groups and businesses for workshops and activities. Visit its website to book a future tour.
Cost: Free on the first Saturday of the month. Private tours run $5 per student for schools and youth organizations and $15 per person for all other groups.
Downtown
The USS Midway is not only one of San Diego's most popular attractions, but it's also the most visited historic naval ship museum in the world, attracting more than 1.4 million visitors each year, with almost 30% coming from outside the United States. A decommissioned aircraft carrier, which was in operation for nearly 50 years, it's one of the best-preserved military displays in the country and offers visitors a chance to physically explore the history of America's navy. There are more than 60 exhibit areas, including the flight deck, aircraft gallery, below decks and hangar deck, plus activities including flight simulators, the Battle of Midway Theater and a docent-led Guided Island Tour. The museum is open daily from 10am–5pm, with the last admission at 4pm. Purchase tickets online.
Cost: $31 for adults 13+, $21 for children 4-13 and veterans (with valid ID). Free for children five and younger, active duty military (w/valid ID), active sworn law enforcement (w/valid ID), active sworn firefighter (w/valid ID), including reservist.
La Jolla
The recent renovation and expansion of the Museum of Contemporary Art San Diego (MCASD) expanded the original gallery space four times on two light-filled levels, as well as adding a public park and new seaside terraces. Two hundred works of contemporary art fill the gallery, including Alexis Smith: The American Way, retrospective of the California artist's collages, using found texts, images and objects as a commentary on the media and culture that surrounds us, and how we are shaped by it. The museum is open Thursday-Sunday from 10am–4pm and tickets can be purchased online.
Cost: $25 for adults, $20 for San Diego County and Tijuana residents, $15 for students and seniors, free for military and their families, people 17 and under, and SNAP/EBT cardholders. Admission is free for everyone on the second Sunday and the third Thursday of every month.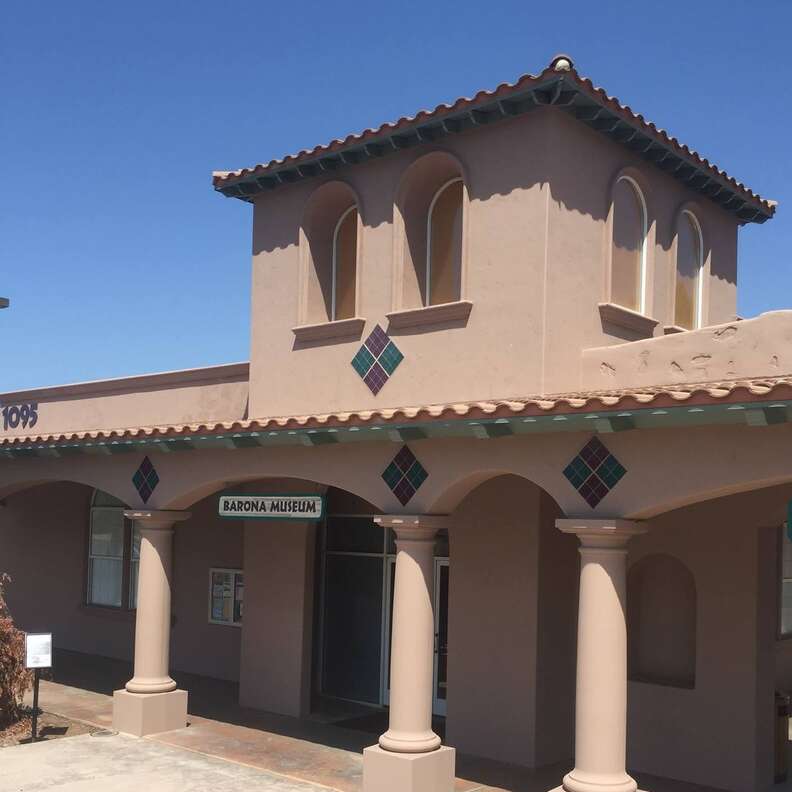 Barona Indian Reservation
The Barona Cultural Center & Museum is dedicated to preserving the Native American culture and history of San Diego County. The county's only museum on an Indian reservation, it houses more than 3,000 various artifacts, along with listening nooks, photographs and archives that inform the compelling stories of the Kumeyaay tribes. With some objects dating back more than 10,000 years, the creativity and proficiency of North America's first inhabitants are on full display. In addition, the museum's library houses over 1,000 books—including rare and out-of-print editions—an extensive archive of photos and historical documents to help visitors discover how Indigenous groups lived. The newest exhibit, Peyii 'Enyeway 'Esekáayches: We Are Still Here! examines the historic erasure of indigenous cultures through forced assimilation and genocide. A Visit From Old Friends: From the Vaults of the San Diego Museum of Man is a collaborative exhibit that displays beautiful Kumeyaay/Diegueño artifacts on loan to Barona from the San Diego Museum of Man. Many of the pieces have rarely been seen and have never been on exhibit before. The Barona Cultural Center & Museum is open Thursday and Friday from noon-5 pm and Saturday from 10 am-4 pm.
Cost: Free
Downtown
Explore San Diego's long maritime history with a visit to the Maritime Museum of San Diego, the largest preserved collection of historic ships in the U.S. You'll see steam-powered boats, submarines, a refurbished, historically-accurate replica of Juan Rodríguez Cabrillo's ship, San Salvador, and the majestic Star of India. On-the-water adventures include the 90-minute interactive BOARDED! A New Pirate Adventure, plus Swift Boat Naval History Tour. It also includes San Salvador Sailing Adventure plus a Tall Ship Adventure Aboard Californian (a Gold Rush-era revenue cutter) and the Official Tall Ship of the State of California. On-board exhibits deliver as well, with Sea Monsters: Delving Into The Deep Myth, a Model Gallery and To The Brink Of War, a chilling depiction of the tense undersea story within the Cuban missile crisis of October 1962, plus a half-dozen other permanent and rotating exhibits. The Maritime Museum is open daily from 10am to 5pm, last ticket sold and entry at 4pm.
Cost: General admission is $20.00 for adults 18+, $15 for seniors 62+ and students 13-17, $10 for children 3-12, under 3 is free. On-water adventure prices vary.