The following is a transcript of this KING 5 article. Be sure to give them a click!

Story by: Saint Bryan
"WNDRing" what the WNDR museum is all about? #k5evening
SEATTLE — Seattle's new WNDR Museum is both an art and a technology museum, full of installations that need one more thing to be complete.
And that's you, the interactive visitor.
Ryan Kunkel, president of WNDR Global, wants visitors to be prepared. This is not your traditional museum experience.
"In some ways we consider ourselves to be the anti-museum," Kunkel said. "We are all about accessibility, interaction, playing, touching, exploring and that's what WNDR is all about."
The more you interact with the installations — the more playful you get with the art — the more you will get out of the experience.
After walking through HAZE's Hyper Mirror, a 150-mirror infinity room with a floor that lights up with every step, we found ourselves in front of Seattle artist Andy Arkley's "You Can Do Most Anything," a wall sculpture controlled by 16 lit buttons that control synchronized music and lights.
We couldn't stop playing with this.
We gathered inside a tent for another exhibit by Scottish artist Leigh Sachwitz and flora&faunavisions. After pulling a string and turning off a light, we experience a violent storm rolling in. This installation might be a bit much for those with auditory processing disorders.
Another favorite of ours is "Untitled By You," an AI art system created by Wolfbear and designed by Flower. Type in a description like "Scary Clowns" and something disturbing pops up on all five screens.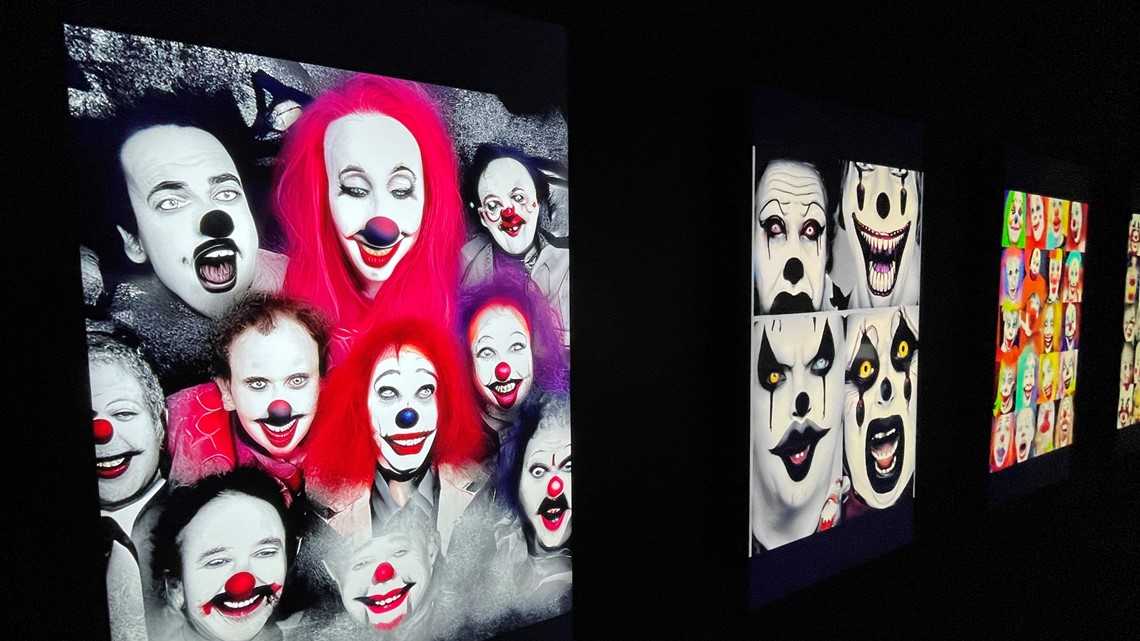 Credit: Saint Bryan
"Scary Clowns" from the "Untitled By You" exhibit at WDNR Museum.
Kunkel says he's personally excited by the giant yellow pumpkin sculpture by Japanese contemporary artist Yayoi Kusama.
"She is arguably the most prolific living female artist in the world and to have one of her pumpkins here in Seattle, and to make this a permanent home, is truly a remarkable moment," he said.
Founded in Chicago in 2018, WNDR museums can also be found in San Diego and Boston.
"We're combining our two passions of art and technology and we will have new installations all the time," Kunkel said. "This is an amazing platform."
Seattle's WNDR Museum is open every day of the week from Noon to 9 p.m. Tickets range in price from $22 to $50. The museum is located at 904 Alaskan Way in downtown Seattle.